EU: Stop the CETA trade deal
To Members of the European Parliament:
We call on you to vote against the Comprehensive Economic and Trade Agreement (CETA) with Canada. As it is, the deal threatens our environment and our public health, and gives the corporations the power to sue our governments in private courts for policies that affect their profits. We call on you to put people over corporate profits and work instead to support agreements that are in the interests of all citizens.
---
Enter your email address: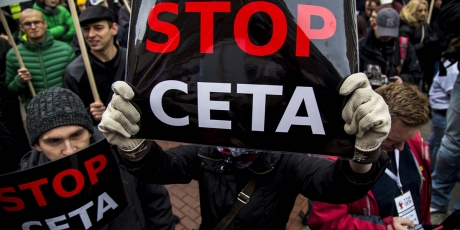 In 48 hours, the EU Parliament will vote on a crazy deregulation deal that could kill our strongest environmental and public health laws, and even 200,000 jobs!!!

In theory, it's just a trade deal between EU and Canada. But 40,000 of the biggest US corporations have subsidiaries in Canada and if this passes they will have the power to start suing European governments to force us to weaken our health and environment protection!!!

With public pressure we've been able to stop these monster trade deals before. Let's do it again! The vote will be close! If we can raise 1 million signatures in the next 2 days, we'll deliver them to the key MPs we need to convince to win.